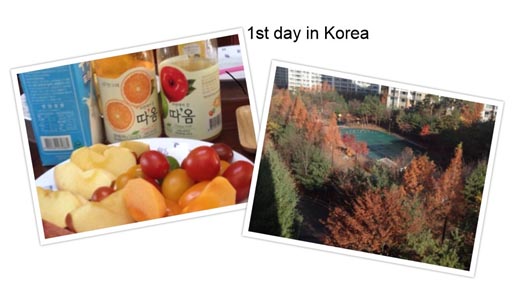 After 2 years of waiting and preparing for this vacation to happen, I wasn't expecting it anymore. I was very thankful to my Philippine boss Ms. Grace she often reminded me to push through this vacation, she strongly believes that it will really give me new experiences and a great get away together with our bosses and staff from our Korean office.
The delightful thing that happened was when Ms. Grace and I went to the Korean embassy. I did fall in line, I got nervous because the two people ahead of me were denied of their visa application, as I received my passport I run immediately to Ms. Grace and want her to check it first, then she shouted I got approved. I got my VISA and I can visit Korea! At last the long wait was over.
The day that we went to the airport was filled with anticipation. We went there a bit early because our flight coincides with the arrival of delegates from other countries who will attend the APEC summit, we want to escape the traffic so, we planned the time how long it will take from checking-in to immigration.
Our airplane was waiting on tarmac, we heard an announcement from the PA system to board, we checked ourselves in and waited for 2 hours. We were informed by the flight attendant that our plane will land at Incheon International Airport. It was raining at that time, we waited for our boss Sir Jim and he told me that my student who is working in that airport will be there to meet me. We did meet him and exchanged small talk and we finally said goodbye to proceed to Sir Jim's house and meet his lovely family, where we will also spend our 5 days in their humble home. It was really cold when we touched down from the airport we finally felt the winter chill. Oh! Its bite is quite unnerving it was going through my skin to the bones as we walked to the parking lot every time we talked there was smoke coming out from our mouth. It was freezing cold. Before we went to their house we stopped by at a bakery shop, loved the set-up of the shop. It is a taste all you can bread shop. We definitely love that bakery shop, delicious bread, and cakes.
At last after a chilling welcome at the airport, we arrived at our boss' house had a small chat and slept. Morning came and the wind is still chilly. I can say despite of the weather outdoor we had a good sleep; I was looking forward on our first day in Korea I wanted to feel and taste how it is live in " The Land of the Morning Calm". I went to the veranda and took pictures of the surroundings and had our first healthy breakfast prepared by our boss' wife Ms. Jina.